Monday, October 27th, 2008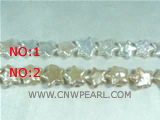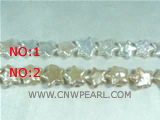 What is the pearls overtones – a tint secondary to the main body color. Pink tones can increase the price and blues can reduce the price. You can verify that the pearls are clean by making sure there are minimal defects such as nicks, cracks, pits, or discoloration.
Turn the pearl around and check it at all angles. The color, the shape, smoothness, and luster cannot all cannot be different on a single pearl.
Roll a strand of pearls on flat surface to test them for roundness. If they are round they will roll more smoothly and evenly. If they are not round you will feel it when the pearls are rolled, it could feel like going over a bump.
There are three steps you need to take to recognize real pearls from imitations. Run the pearls along the bottom edge of your teeth. A real pearl will feel gritty and or sandy. A fake pearl will feel smooth.
Look at and feel the pearls. Flawless pearls and those that feel light when you bounce them in your hands are probably fake. Check out the pearl under a number 10 magnifier ( a loupe). Imitation pearls appear grainy.
This is definitely a process and it is up to you to do whatever you can to check the value of the pearls. If necessary bring someone who is knowledgeable with you.
This kind of pearl wholesale can fit anyone's lifestyle and personality. You can make every day truly memorable occasion when you shop this convenient online wholesale pearl collection. You can see everything from designer-inspired pearl jewelry to us creations. Each design is unique. You'll find pearl strands, cheap pearl necklace, pearl bracelet, pearl rings, cultured pearl earings, pearl pendant, twisted pearl necklace, 925 sterling silver  … and many other designs such as single strand necklace at affordably low prices, I like them very much