Sunday, October 5th, 2008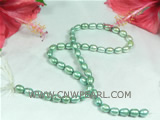 Women have passion for beauty and buy jewelry to enhance their beauty and show styles. One piece of jewelry, however expensive, is not sufficient. Women need variety in jewelry to go along with various dresses. Among other types of jewelry such as diamond, platinum, gold and gemstones jewelry, pearl jewelry is one of the favorite and preferred choices for many women. Pink pearl jewelry is one of the favorites and preferred choice of many women, especially among young. Pink pearl jewelry looks very subtle and attractive yet eye-catching and it compliments with most outfits.
When it comes to buying fine pearl jewelry, not only women look for elegance and exquisiteness but also the fine pearl jewelry must be of excellent quality and above all affordable. Among gold, silver, diamond or platinum jewelry, pearl jewelry made with selective lustrous high quality pearls handcrafted to its finality is equally appealing and truly gives value for the money. Often fine quality pearl jewelry has been a precious family heirloom possession handed down from generation to generation. Pearls natural iridescence and gracious appearance around the neck when worn as a necklace with any attire truly enhances women's beauty and style.
Although it takes 40-50 pearl beads to make a full strand of pearl necklace but each pearl has to be carefully hand-knotted and stringed together nicely. There are various types of pearls such as freshwater pearls, akoya pearls or seawater akoya pearls, Tahitian pearls, South sea pearls. All are cultured pearls and each type of pearls commands different prices because of its quality, size and colors. Choosing the right pearl size, shapes and quality is no less important. There are various pearl necklace lengths ranging from 12" to over 36" and each one has its own charms but the most famous and largely sold are pearl princess lengths that is about 16"-18"in lengths.
In here you can choose more than a hundred special gifts for everyone on your list as convenient as me. Just like wholesale pearl necklace, cultured pearl strands, cheap Teardrop shape pearls, pearl bracelet, wholesale pearl ring, pearl earrings, cheap pearl pendant, wholesale sterling silver jewelry, single strand necklaces…. for you are designed for long-lasting wear and durability. They are suit for wholesale pearls. For a unique look, check out the pearl accessories over pearl jewelry wholesale! The same high quality cubic zirconia found in our jewelry adds highlights to your selections.